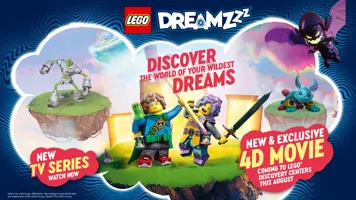 Premiering August 1st!
LEGO® DREAMZzz™ is coming to LEGO® Discovery Center Atlanta with the NEW & EXCLUSIVE 4D Movie 'Z-Blob Rescue Rush'.
Dive into this thrilling journey to enter the 4D world of your wildest dream! A bunch of ordinary school children transform into five brave heroes – will they be able to use the power of their imaginations to rescue Z-blob from the clutches of the Nightmare King? You'll have the adventure of a night-time! 
Don't miss out on a dream adventure at LEGO Discovery Center Premieres Tuesday, August 1st! Book now!