A Fantastical World of LEGO Builds with MINI WORLD
Explore and play in an updated fantastical world of awesome LEGO builds! Made with over 1.5 million LEGO bricks, planes fly over the tallest towers, day turns to night and some local landmarks creep into the skyline too. Can you recognize them?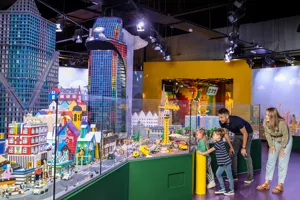 Boston Made Into LEGO Bricks with MINI WORLD
Explore and interact with the City of Champions at our spectacular miniature LEGO® replica of the city's most loved landmarks built from over 1.5 million LEGO® bricks! 
More Awesome Awaits
Take a stroll along the Freedom Trail through Boston's historic district, from Boston Common to the Bunker Hill Monument
Our mischievous Minifigures love hiding in MINI WORLD! Who will you spot?
MINI WORLD took a team of 15 expert model builders over 5,000 hours to build.