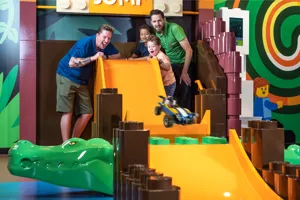 Build Adventures
Jump over a crocodile in the jungle, loop over lava and drive through the desert! Everything is possible with LEGO bricks. An entire area dedicated to playing and creating with LEGO bricks, this is where imaginations run wild and creative skills are put to the test!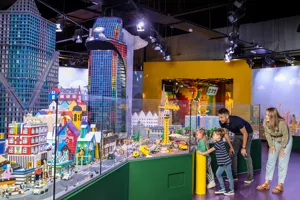 A Fantastical World of LEGO Builds with MINI WORLD
Explore and play in an updated fantastical world of awesome LEGO builds! Made with over 1.5 million LEGO bricks, planes fly over the tallest towers, day turns to night and some local landmarks creep into the skyline too. Can you recognize them?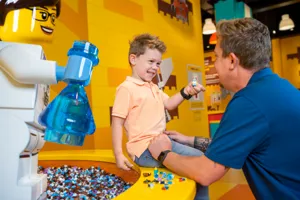 Minifigure Creator
Start your adventure in the LEGO® World by creating your own companion who will follow you throughout your journey in the different areas of the attraction. You'll be able to customize your Minifigure with a torso, a head, legs, and a hat! There's something for everyone!  
Take some pictures of your Minifigure in the different interactive zones and terminals in the attraction.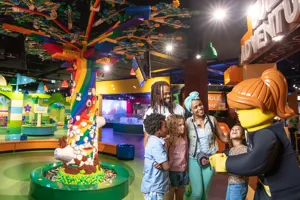 Tree of Togetherness
The Tree of Togetherness is the first and last LEGO® construction you will see when you visit the LEGO Discovery Center. You won't be able to miss it thanks to its rainbow of colours! Come, take a closer look! You'll see that it contains a magical world!
Gather around this tree to take part in various challenges suggested by the Playmakers and the Master Model Builders, from finding special Minifigures in the MINI World to building challenges.
Finally, add your own LEGO brick to the tree!