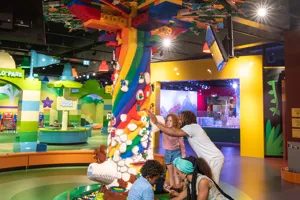 Tree of Imagination
The Tree of Imagination is the first and last LEGO® construction you will see when you visit the LEGO Discovery Center. You won't be able to miss it thanks to its rainbow of colours! Come, take a closer look! You'll see that it contains a magical world!
Gather around this tree to take part in various challenges suggested by the Playmakers and the Master Model Builders, from finding special Minifigures in the MINI World to building challenges.
Finally, add your own LEGO brick to the tree!